Xikar Xi3 Cutter
XIKAR is by far our favorite accessory manufacturer! This high end line of cutters are incredible, so be sure to read about them all below and check out the pictures! (Prices vary. Please choose your style from the drop down menu. Your price will then change to reflect the price of the chosen style)
Description
Carbon Fiber Cutter
We are proud to introduce the long awaited Carbon Fiber Xi3. Part of the Carbon Fiber Collection (cutter, lighter & 3 cigar case…the rest to be released soon), the renowned Xi3 cigar cutter now boasts top quality, genuine Carbon Fiber handles that are often found in luxury sports cars, jets and yachts. Carbon fiber is really millions of microscopic fibers, made of mostly carbon atoms bonded by crystals, making the material extremely strong and durable. When these fibers are interwoven, the result is a strikingly attractive pattern with incredibly strong & lightweight properties.
The Titanium Transformation of the renowned XIKAR cigar cutter!
The Xi3 STS & STK have been coated with a high performance coating called Titanium Nitride, which now protects and stylizes the cutter. Used for many purposes, from aerospace equipment to jewelry, Titanium Nitride is a coating that creates an extremely durable exterior to the all stainless cutter. XIKAR's use of Titanium Nitride has created the multi-color eye-catching STS or the more subdued and sleek STK.
– Read Reviews
The Xi3RW Redwood, Xi3BW Beachwood, Xi3ZW Zebrawood feature polished stainless bodies. We adorn the cutters with exotic wood handles for an exquisite and elegant finish.
The Xi3 Tech utilizes boasts a bead blasted stainless finish for a more high-tech, utilitarian look. To give you a superior grip cut after cut, we seamlessly bonded rubberized handles to the cutter.
Xi cutter blades are made of high quality 440 stainless steel with an HRC of 57.
All Xi3 cutters features the same unique, ergonomic teardrop shape and double-guillotine action that gives the Xi and the Xi2 such powerful cutting ability in one simple squeezing motion.
All Xi cutters are the same ring gauge: they will cut a 54 ring gauge cigar in half. Depending on how much cap you cut, they will cut up to a 58 ring gauge cigar.
Xi3 Exotic Cutters
Exotic Beauty Meets The Perfect Cut.
Cocobolo
Cocobolo is a sup-canopy tree reaching 60 feet tall. Its great beauty and high value make Cocobolo one of the most beautiful rosewoods.
Amboina Burl
Amboina Burl is an exotic hardwood with a fragrant aroma and captivating swirls. Nicknamed the 'burl with a swirl', Amboina remains a timeless, elegant wood.
Bocote
Bocote is a large canopy tree, with some specimens reaching up to 120 feet tall. It is sought for its particularly fine yet strong luster.
1000 Limited Edition Mayan polished cutters available.
The Mayans were the only ancient American civilization with a recorded history of their own. Mayans broadcasted on stone billboards, the loudest messages of all cultures. They recorded on lithic monuments, pottery, papers, and skins, the grand events of their abstruse culture. Though their hieroglyphs remain to be totally deciphered, we may soon have the benefit of viewing an advanced civilization built upon "primary technology" taken to the fullest understanding of nature's provisions. In other words the Mayans went about as far as they could go within a category of earth and stone technology. Their knowledge of the Primary Technology (Nature) surely surpasses ours. XIKAR's Limited Edition Cutter is a one-of-a-kind collectible that blends the incredible part of the Mayan civilization with a cutting edge.
The Mayan Art Engraved Cutter is enclosed in a classy Gift Box with individually numbered Certificate of Authenticity. A FREE Genuine Stingray sheath may be obtained to protect the cutter for a lifetime.
XIKAR's NEW Sera Cloisonne Cutter is a spectacular portrait of the ancient technique for decorating metalwork objects. Cloisonne first developed in the Ancient Near East and now XIKAR has created a collectible piece for life. Blue and Black cloisonne pattern on brushed stainless steel body.
The Havana Collection by XIKAR
There are no cigar cutters in the world like XIKAR's Havana Collection cutters. Their creation fuses XIKAR's innovative, industry leading Xi3 cutter with original art from Paris, to achieve the classic ambience of the Havana cigar.
To create each unique, mixed media decoupage art piece, the Parisian artist begins by fashioning handles of French maple wood to fit the Xi3 body. He then hand paints the handles in one of five vibrant colors, including green, yellow, red, blue and black.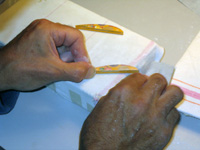 Once the base is complete, the artist individually cuts or tears pieces of actual cigar bands, then meticulously arranges the cut cigar band pieces in place with tweezers. By varying each collage pattern, he gives each cutter a one of a kind Havana Collection signature.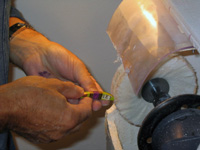 When the artist completes the collage, he seals the cutter's beauty forever with several coats of clear varnish. To ensure a smooth and comfortable grip, he lightly sands and polishes the handles before attaching them to the Xi3 cutter body.
When the process is complete, the Havana Collection cutter by XIKAR is more than the best cigar cutter money can buy. It is a handmade, piece of art that liberates the spirit of the quintessential cigar city, Havana.
A genuine, exotic Stingray leather sheath elegantly protects the cutter for a lifetime.
Reviews (0)
Only logged in customers who have purchased this product may leave a review.
Related products