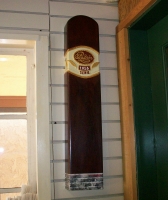 Padron Wooden Cigar
Great detail makes this look like a real cigar. Measures 28 inches tall, 5 1/2 inches wide and 2 1/2 inches deep.
Out of stock
Description
Package Count: 1 Cigar Length: 28in Cigar Ring: 5.5 Cigar Origin: Nicaragua Cigar Strength:
Reviews (0)
Only logged in customers who have purchased this product may leave a review.
Related products